Introducing The 8Pack Hypercube Mk2
For the 8Pack connoisseur amongst you, throw your mind back a couple of years, and you may remember the original Hypercube: a highly customised gaming PC that was acclaimed worldwide for its insane performance, cherry-picked components, and a rather high (but justified) price tag. It was a PC that was impeccably designed and tuned from the ground up, providing unparalleled gaming performance that excelled everything else on the market. In fact, nothing came close. Until today, that is!
8Pack took everything you loved about the Hypercube and pushed it to the extreme. The all-new 8Pack Hypercube MK2 features some of the best gaming-grade components available – including the award-winning Asus ROG X570 Crosshair VIII Formula, AMD's insanely powerful Ryzen 9 5900x @ 4.8GHz, Nvidia GeForce RTX 3090 24GB GDDR6X, 32GB Team Group 8Pack RAM, 2 x 2TB Western Digital SN850 SSDs, Asus ROG Thor 1200W 80 Plus Platinum PSU, and more water cooling than you can shake a stick at.

As expected, the hardware is precisely installed inside the Lian Li O11D Mid-Tower Case by 8Pack and the talented Overclockers UK technical team. The case itself has undergone a few modifications, namely the innovative distro plate reservoir that now takes up the entirety of the front panel. The whole build is then beautifully illuminated by utilising multiple RGB LED strips and finished off with custom Pexon cables, hand-sleeved for a prestigious finale.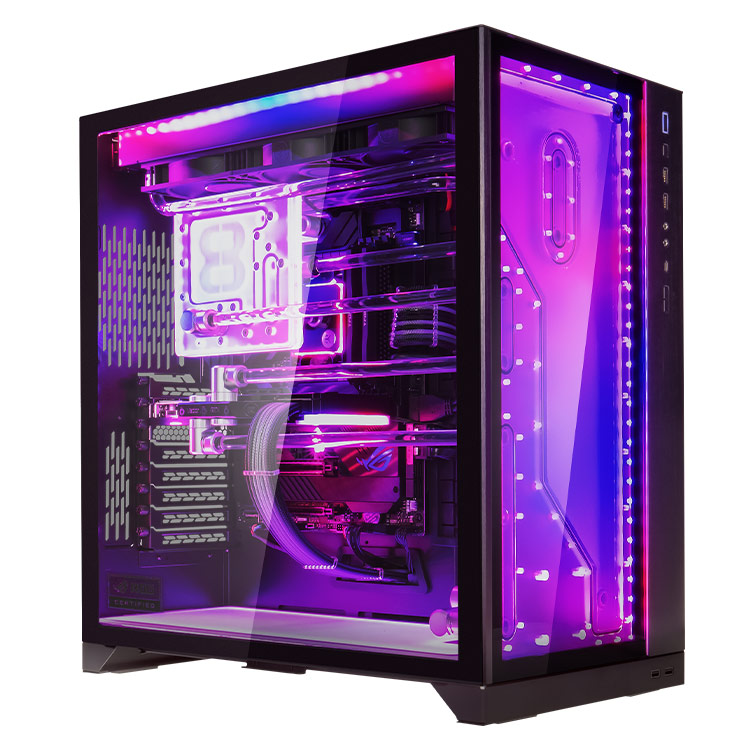 8Pack Hypercube Mk2 Features
Dynamically overclocked AMD Ryzen 9 5900X CPU
Nvidia GeForce RTX 3090 GPU fitted with a custom water block
Asus ROG Crosshair VIII Formula X570 motherboard
8Pack branded Team Group 32GB DDR4 RAM
Comprehensive water cooling system including custom-built distro-plates
Extensive RGB lighting controlled with Asus Aura
Exquisitely built into a Lian Li O11D Mid-Tower case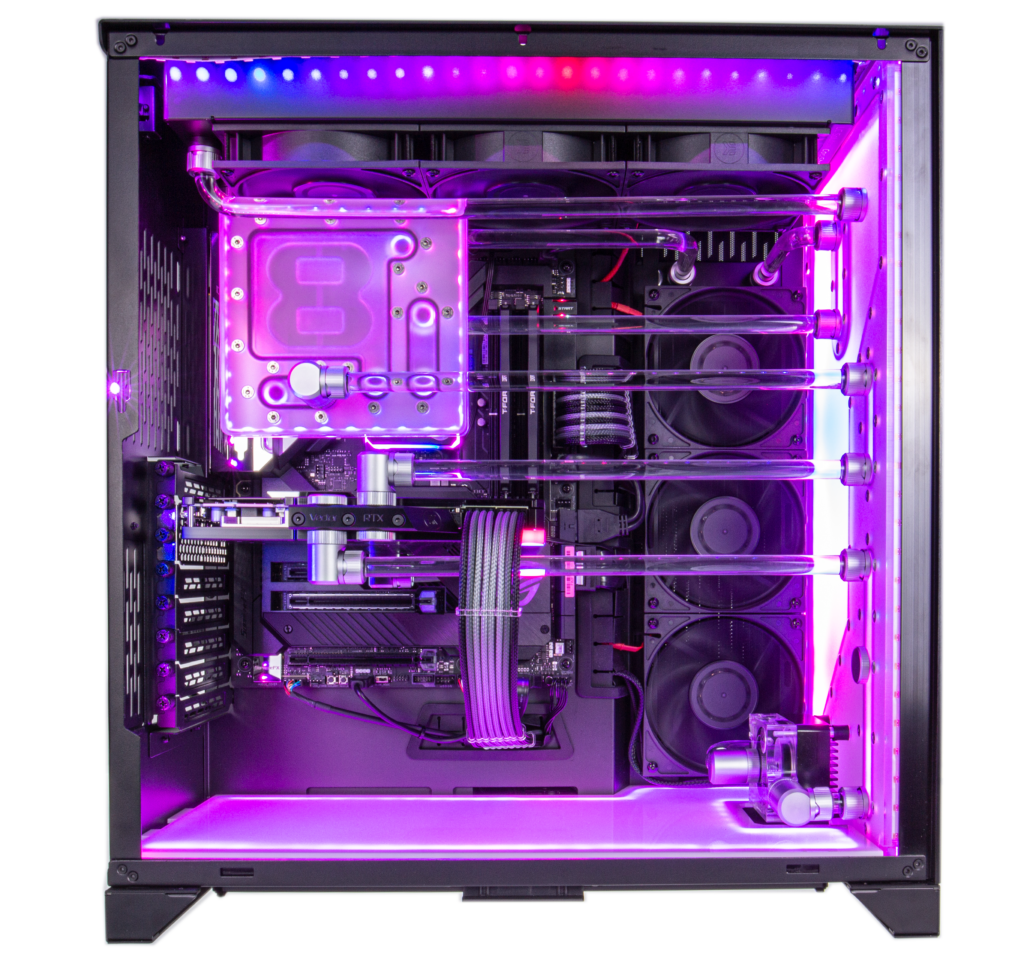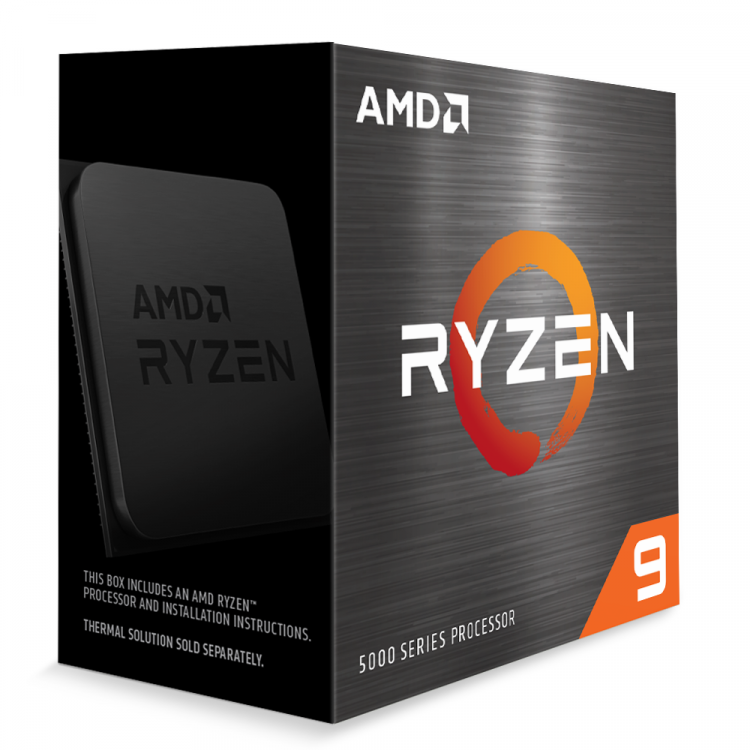 Tuned For Performance
As a quality assurance with all 8Pack builds, every component has been individually bench-tested and tuned for performance prior to installation.
You might have heard the term 'Silicon Lottery'? Well, 8Pack refuses to deal in chance, ensuring that you get the very best silicon available. This is all part of what sets 8Pack PCs apart from the crowd. In fact, only 40% of the CPUs tested can actually reach the parameters required to be considered for an 8Pack build!
Overclocked & Undervolted
Equipped with an AMD Ryzen 9 5900X, the CPU features a colossal 12 cores and 24 threads. This has then undergone the 8Pack treatment and been overclocked using the intelligent PBO2 software, creating a range of dynamic profiles. In addition to this, 8Pack has undervolted the CPU for even more thermal headroom. As a result, the CPU can operate with a single core overclocked up to a blistering 5.15GHz or with all twelve at up to 4.6GHz!
Powered By Ampere Architecture
The 8Pack Hypercube MK2 wouldn't be complete without Nvidia's latest GeForce RTX 3090, which has been water-cooled and overclocked to offer a no-compromise solution for gamers, content creators, and streamers who want the very best.
The Nvidia RTX 3090 is powered by Nvidia's second-generation Ampere Architecture – embedded with multiple Tensor cores, RT cores, and all-new streaming multiprocessors enabling ultra-realistic real-time ray tracing.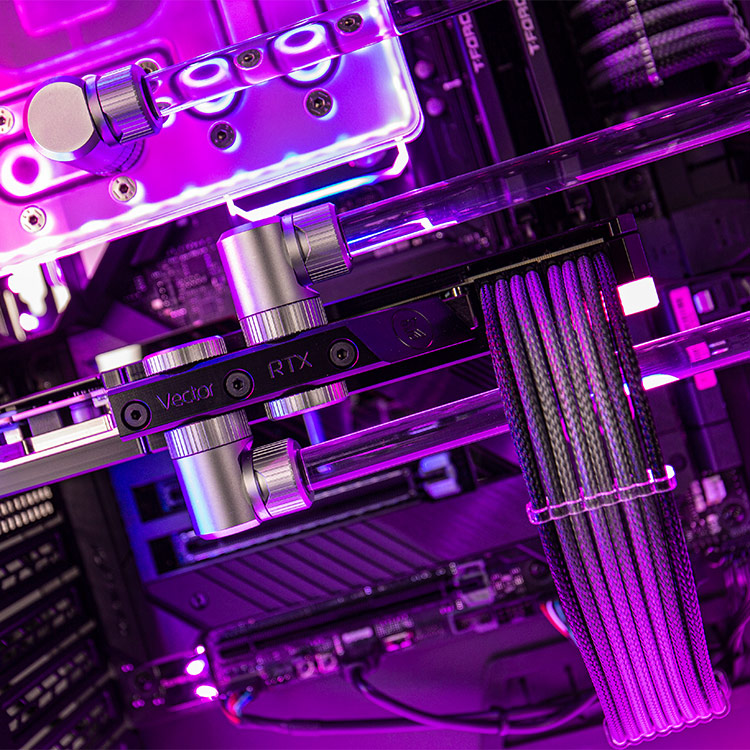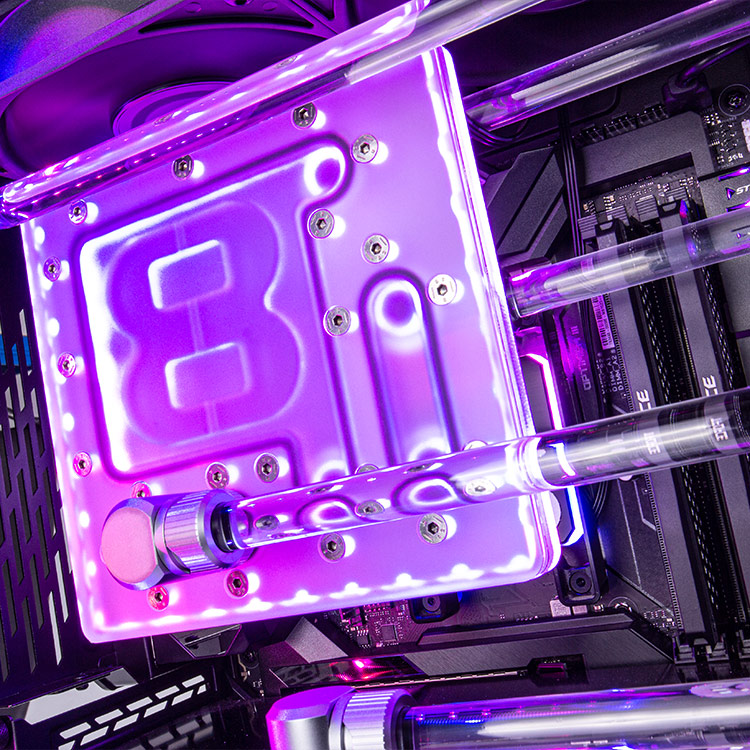 RAMp it up!
The Hypercube MK2 harnesses the power of 8Pack's very own, dual-channel 32GB "8Pack Edition" memory kit that was developed in cooperation with Team Group, 8Pack, and renowned graphics card expert, Andrew "Gibbo" Gibson. This special kit uses premium Samsung B-dies for maximum compatibility and stability, Low CAS latencies, and a great overclocking potential, allowing 8Pack to get the best possible performance from this outstanding RAM.
Advanced Watercooling
To keep the Hypercube's highly-tuned hardware running at the optimal temperature, 8Pack loaded the machine with the very best water-cooling hardware available. This includes EK water blocks, two bespoke distro plates, and an Aqua Computer Aquaero 6 controller.
The loop itself incorporates custom-designed acrylic hardline tubing, EK-Quantum Vector CPU and GPU blocks, 2x EK-CoolStream PE 360 (Triple Fan) Radiators, 7x EK Vadar D-RGB fans, and 1x K-XTOP DDC 3.2 PWM Elite with pump. This is all linked via multiple, specially designed distro plates, including a highly innovative front-facing distro plate reservoir.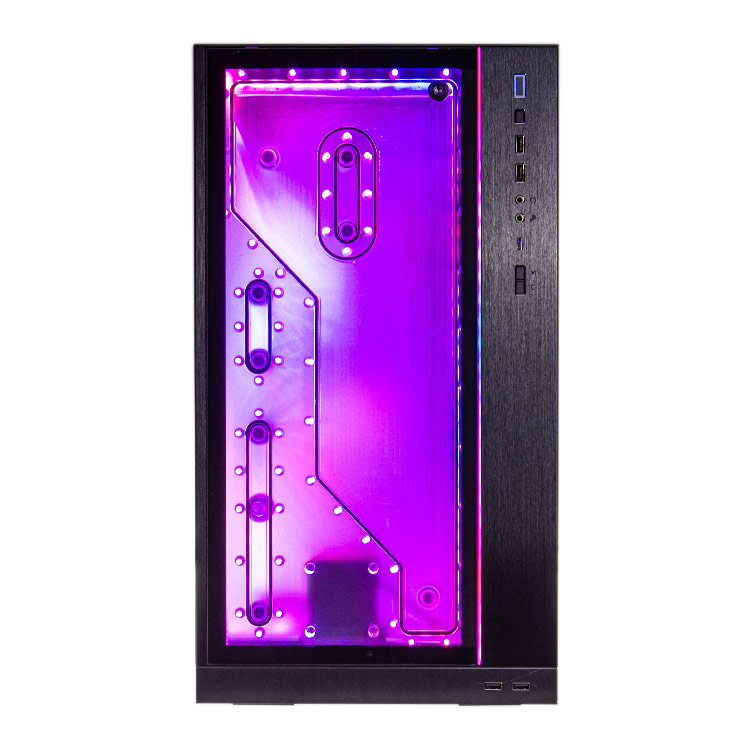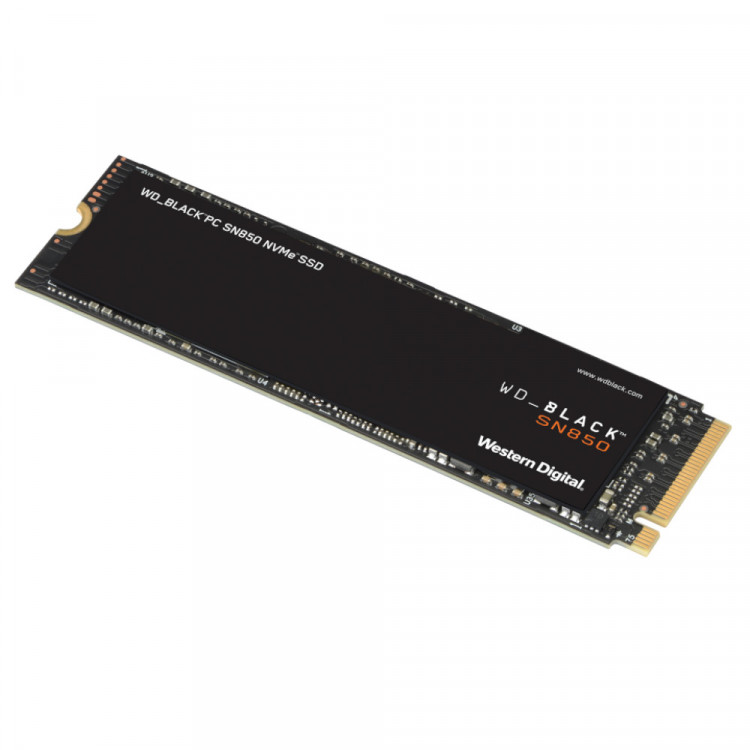 Ultra-Fast NVME Storage
The 8Pack Hypercube MK2 is equipped with a massive 4TB (2x 2TB) WD Black M.2 2280 NVMe PCI-E Gen4 SSDs that are capable of reaching read speeds of up to 5000MB/s (4400MB/s write speed). This ensures loading times are almost instantaneous. Its internal 4TB of storage is more than enough for even the most avid gamer and, if more storage is required, 8Pack has you covered with optional storage upgrades.
Aesthetic Masterpiece
The Hypercube Mk2 is already a masterpiece, but customisation elevates things to new heights. With RGB lighting throughout, you can set millions of different hues to replicate almost any colour you could ever imagine. Taking this a step further, you can even customise the colour of the entire floor panel thanks to the built-in lightbox.
There are also multiple EK Watercooling Fluid choices, a plethora of fittings, and a wide variety of braided cables that enable you to create your ultimate gaming PC. You can literally customise to your heart's content!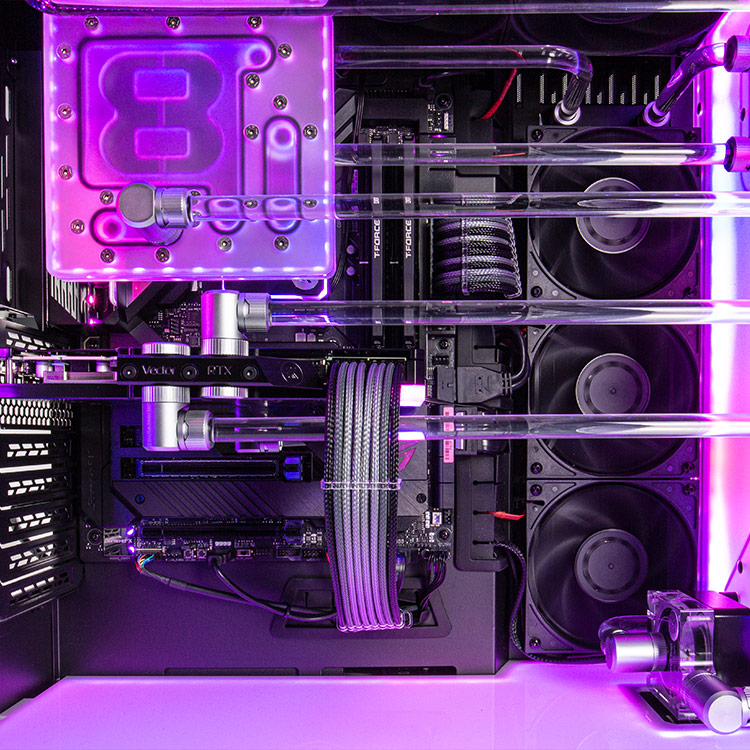 Time to Checkout

If you have read the blog post, have a rich uncle, and decided it's time to upgrade your tired old PC – customise yours today by visiting Overclockers UK. Don't forget, they also do finance!
---
Specification
| Component | Model |
| --- | --- |
| Motherboard | Asus ROG X570 Crosshair Formula ATX |
| CPU | AMD Ryzen 9 5900x 4.8GHz |
| GPU | Nvidia GeForce RTX 3090 24GB GDDR6X |
| RAM | Team Group 8Pack 32GB RAM |
| Storage | 2 x 2TB Western Digital SN850 SSD |
| PSU | Asus ROG Thor 1200W 80 Plus Platinum |
| Cooling | EKWB water cooling with custom-built distro-plates |
| Cables | Pexon custom braided cables |