Introducing the Meteoroid MK2 PC, another incredible bespoke gaming PC expertly crafted by the legendary overclocker, Ian '8Pack' Parry.
A sleek, black and teal blue PC, the Meteoroid MK2 utilises all the latest and greatest gaming hardware and expert overclocking to deliver exceptional performance in gaming, streaming, and content creation.
Interstellar Gaming:
Every component has been carefully cherry-picked to unlock hyper-realistic graphics, superior frame rates, and legendary performance for years to come. Featuring an AMD Ryzen 9 5900X CPU with a PBO overclock already pre-configured, and a Palit GeForce RTX 3080 Ti Gaming Pro GPU that has been carefully fine-tuned and overclocked, the Meteoroid gives all your favourite AAA titles the magical, out of this world, 8Pack touch.
In addition to blisteringly fast gaming potential, the Meteoroid is packed with a plethora of storage options, including a Samsung 4TB SATA SSD and a WD Black SN850 1TB M.2 SSD. With all this hefty, lightning-fast storage space, you can sit back and wave goodbye to slow loading times and never need to worry about running out of precious storage.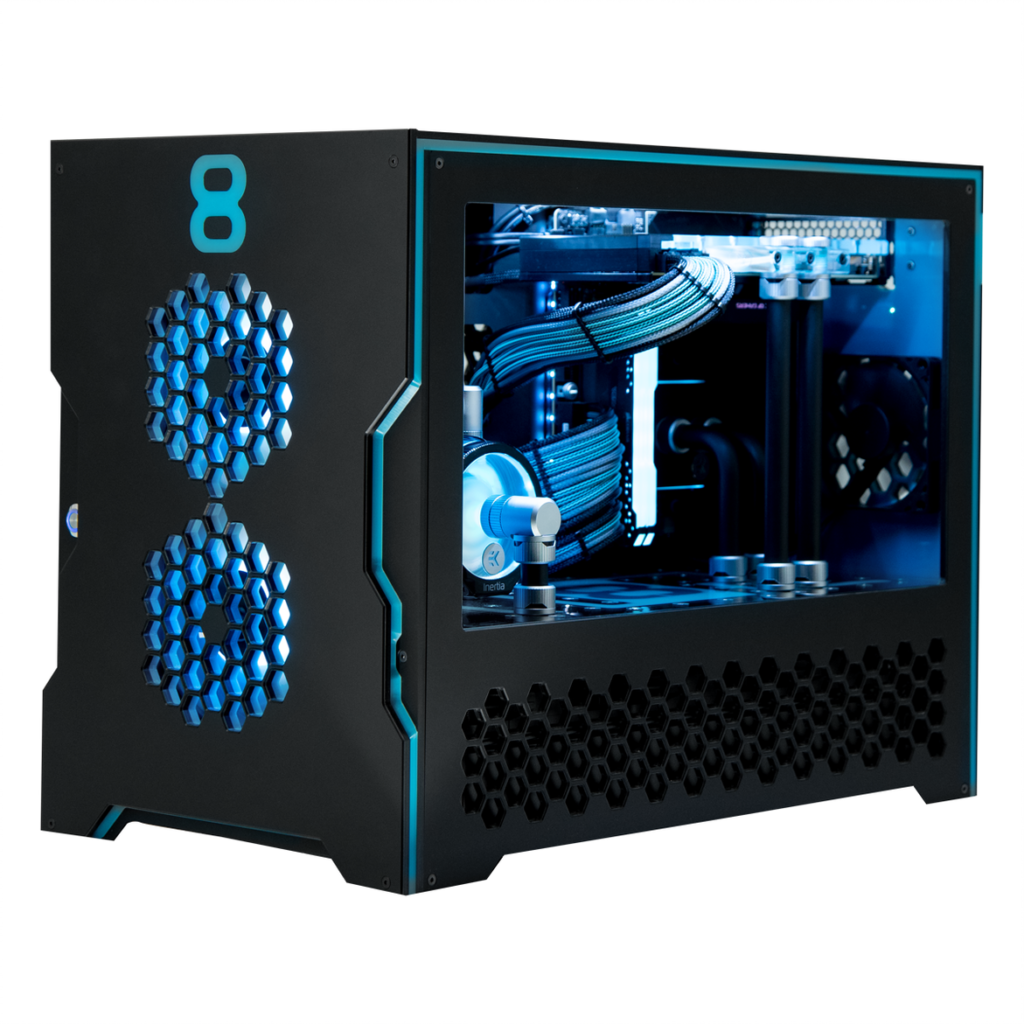 All of this is installed within a custom made Mini-ITX case built at Overclockers UK. This can be customised upon request and constructed from either acrylic, carbon fibre, or aluminium. Plus, with the stylish hexagonal front panel, the Meteoroid features effortlessly modern aesthetics that will suit any battle station and wow your enemies.
What's more, the included RGB light strips and LED fans add a dramatic touch. As a default, all the RGB is set to a stunning mix of whites and teal blues that match the included Pexon braided cables. Completing the Meteoroid's out-of-this-world aesthetics and performance.
Infinite Cooling: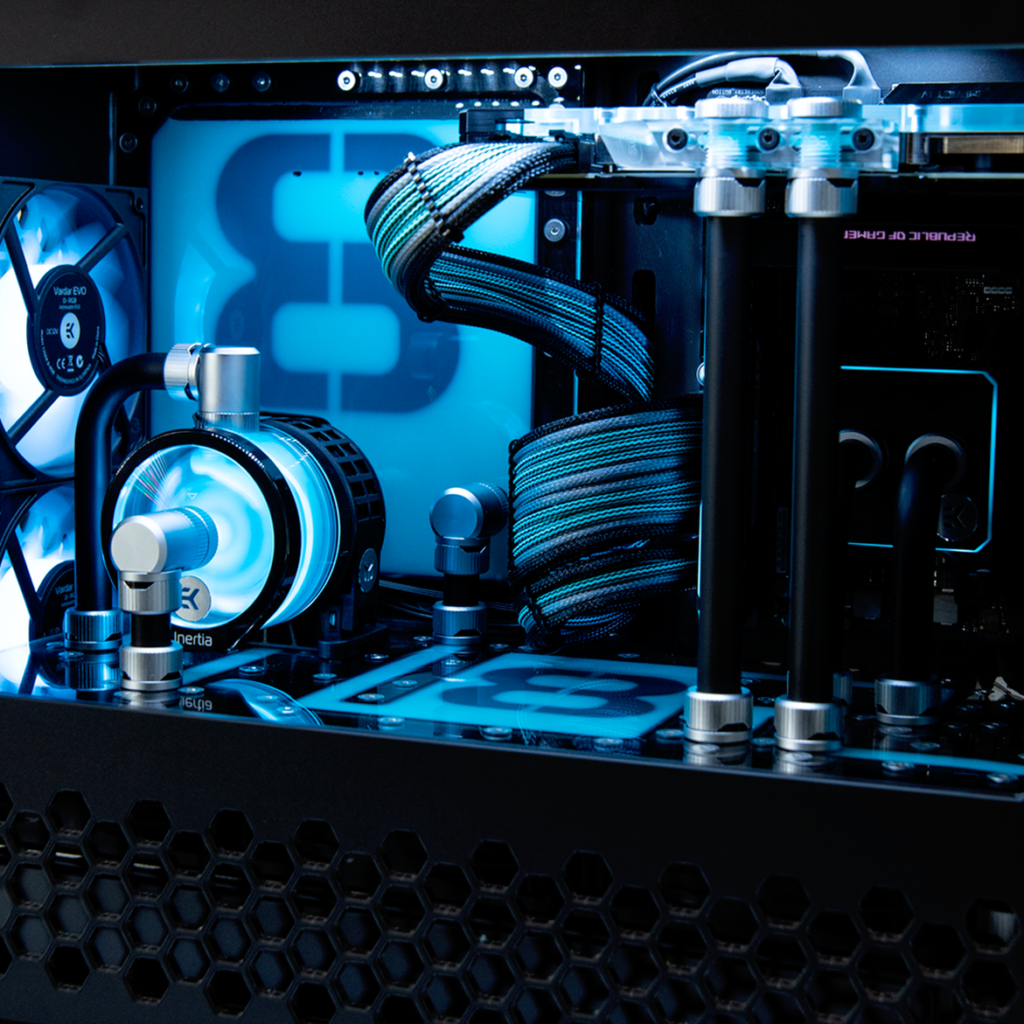 To ensure the system stays cool and quiet, the Meteoroid comes packed with a plethora of cooling configurations.
This includes an EK water block and two 360mm triple fan radiators. Running through the hard tubing loop is the custom mixed turquoise fluid that keeps all your incredible gaming hardware cool and performing at its best.
In addition to all of this, the Meteoroid comes equipped with an Aqua Computer Aquaero 6 LT fan controller, which allows you to control and customise all your fans.
8Pack Approved:
Every bespoke 8Pack Gaming PC has been carefully designed by the man himself to ensure extraordinary levels of performance and high-quality gaming. Utilising a combination of cherry-picked components and expert overclocking, 4K gaming, digital rendering, and content creation are all at your fingertips!
Plus, thanks to his partnership with Overclockers UK, every PC undergoes rigorous quality testing and assurance by the in-house team of PC experts and builders. This ensures powerful performance and stability, even under heavy-duty applications.
The Meteoroid MK2 System Specifications: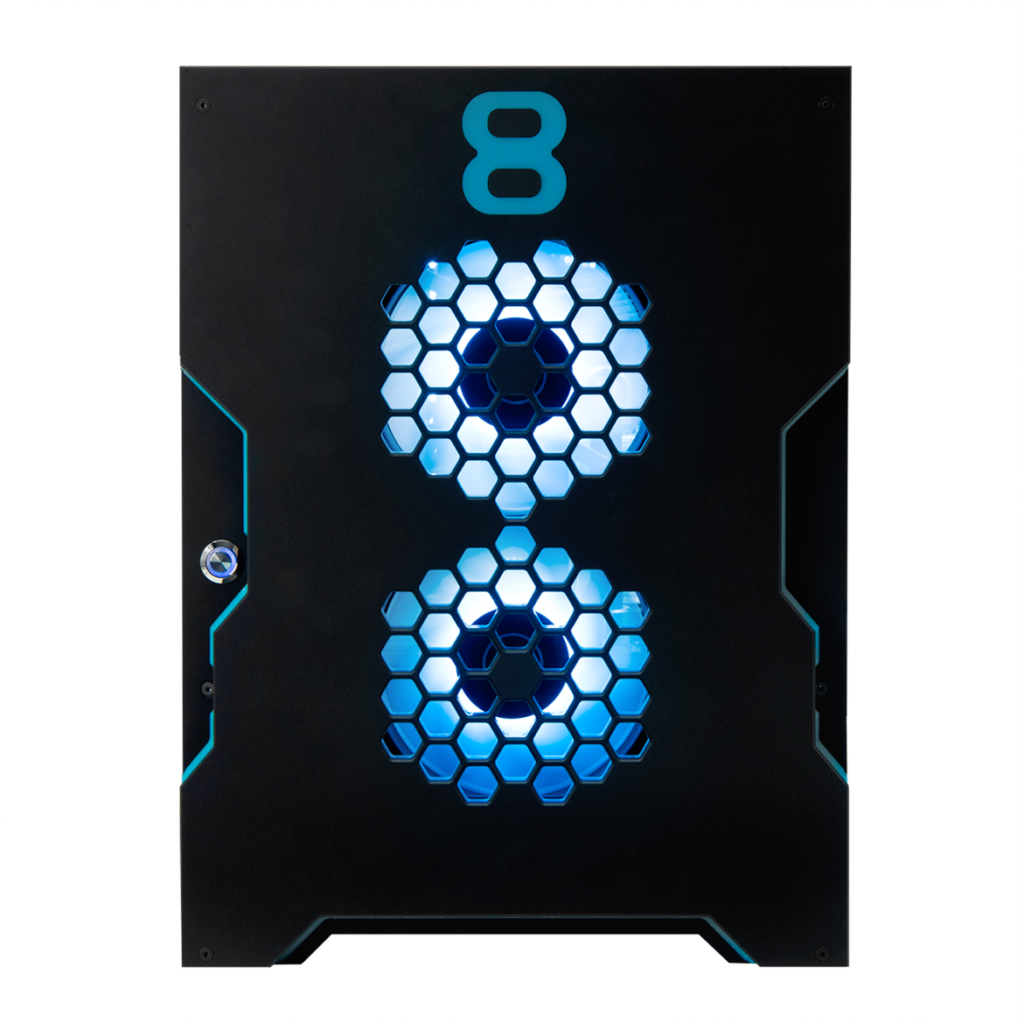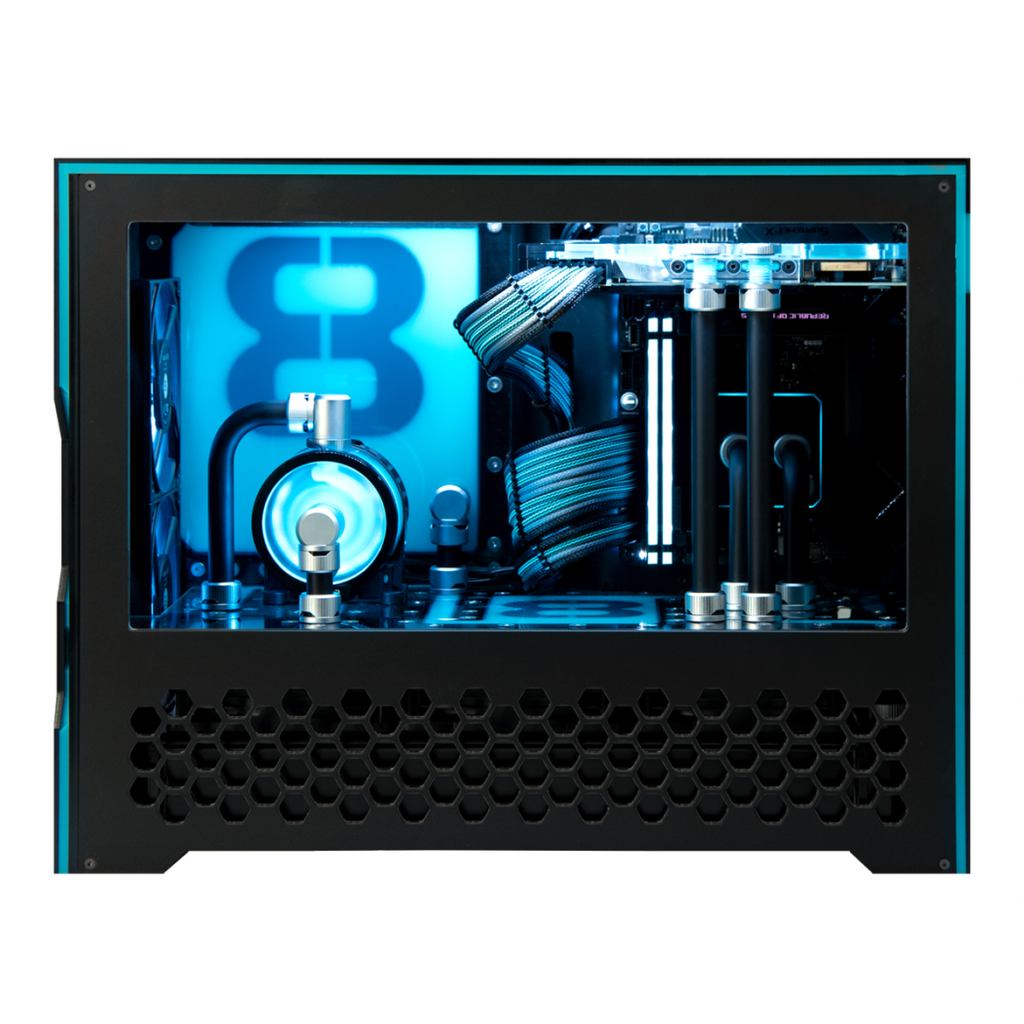 ASUS ROG Crosshair VII Impact X570 DDR4 Motherboard
AMD Ryzen 9 5900Z CPU
Palit GeForce RTX 3080 Ti Gaming Pro 12GB GDDR6X GPU
Corsair Vengeance RGB Pro 64GB (2 x 32GB) DDR4 3600MHz Dual Channel RAM Kit
Phanteks Revolt SFX 750W 80 Plus Platinum Modular Power Supply
1 x 4TB SATA SSD and 1 x WD Black 1TB M.2 NVMe PCIe SSD
2 x Corsair Hydro X Series XR7 360mm AiO Radiator
Custom EK Water Block Cooling
Pexon braided cables
Custom Case – available in full acrylic/carbon fibre/aluminium
Mix of white and teal RGB lighting
Customise and Configure:
With numerous customisation options available, you can tailor the 8Pack Meteoroid Gaming PC to suit your individual needs and unique aesthetic. You can even utilise OcUK's brand-new UV printer! With this, you can select a custom design to be printed on the case or the clear acrylic panels, such as a stylish circuit print. These designs, however, must not be plagiarised and must be original.
All you need to do is get in touch with the helpful team at OcUK who will be happy to assist you with any unique touches you desire.
It's important to note, however, that any customisations may result in additional costs and will affect the production time. The minimum lead time for an 8Pack system is 36 days.
Go on… Order the Meteoroid Today!
If you want to get your hands on this incredible, out-of-this-world gaming PC, click the button down below to order your very own Meteoroid today!
While you wait for your brand-new gaming PC to arrive, why not check out this video below featuring the legend himself, 8Pack, talking about the Meteoroid with Overclockers UK!