Inspired by the cosmos, the 8Pack Comet MK2 is an incredible powerhouse gaming PC created by legendary overclocker, Ian '8Pack' Parry.
An extended version of the Meteoroid MK2, the 8Pack Comet MK2 is a stylish Micro-ATX PC with a sleek white and blue aesthetic. Utilising next-generation hardware and intelligent overclocking, the 8Pack Comet MK2 is packed with everything you need to enjoy an out-of-this-world performance in all your favourite AAA titles.
Triple A Gaming:
Each component in the 8Pack Comet MK2 has been hand-picked to ensure incredible elite-tier performance. Equipped with an Intel Core i9-12900KS CPU and an NVIDIA GeForce 3090 GPU, this PC unlocks superior photo-realistic graphics, exceptional frame rates, and blisteringly fast performance. The processor and graphics card both come with pre-configured overclocks, designed to deliver phenomenal speeds and that magical 8Pack touch. Alternatively, you can opt for a 3080 Ti graphics card if that is a better fit for your needs.
In addition to powerful gaming performance, the 8Pack Comet MK2 comes packed with a plethora of storage drives, including 2 x 1TB WD Black SN850 NVMe M.2 SSDs, and a Samsung 2TB 870 EVO SSD! Utilise all this hefty storage space for all your favourite games and creative projects. What's more, there is a range of upgrade options, should you need a few extra terabytes!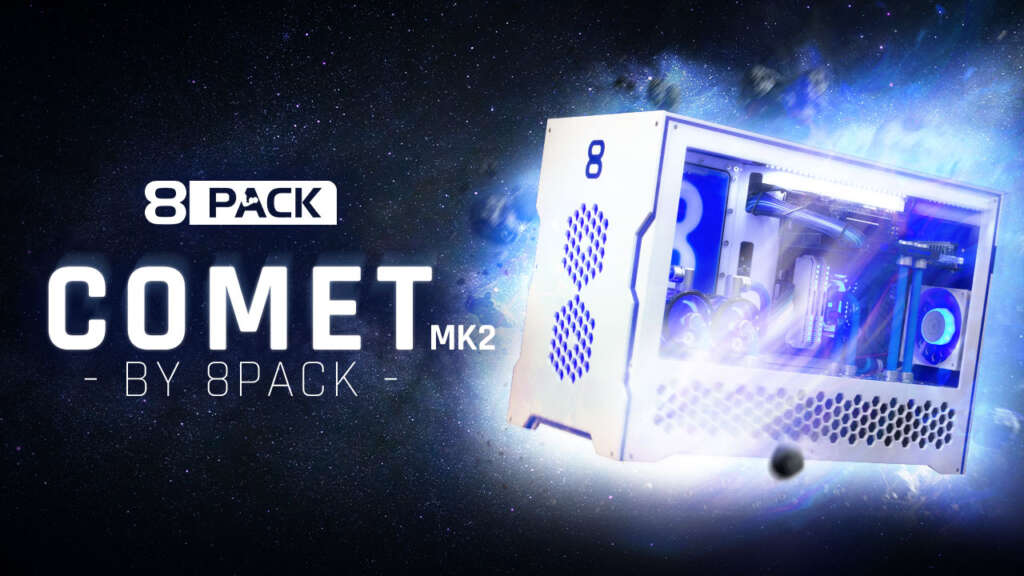 All of which are installed within a custom-made Micro-ATX case, built by the Overclockers UK team. This case is available in either acrylic, carbon fibre, or aluminium. Illuminating all the hardware is the integrated RGB lighting. By default, the RGB lighting is a mix of blues that match the colours of the included braided Pexon cables.
Keeping it Cool: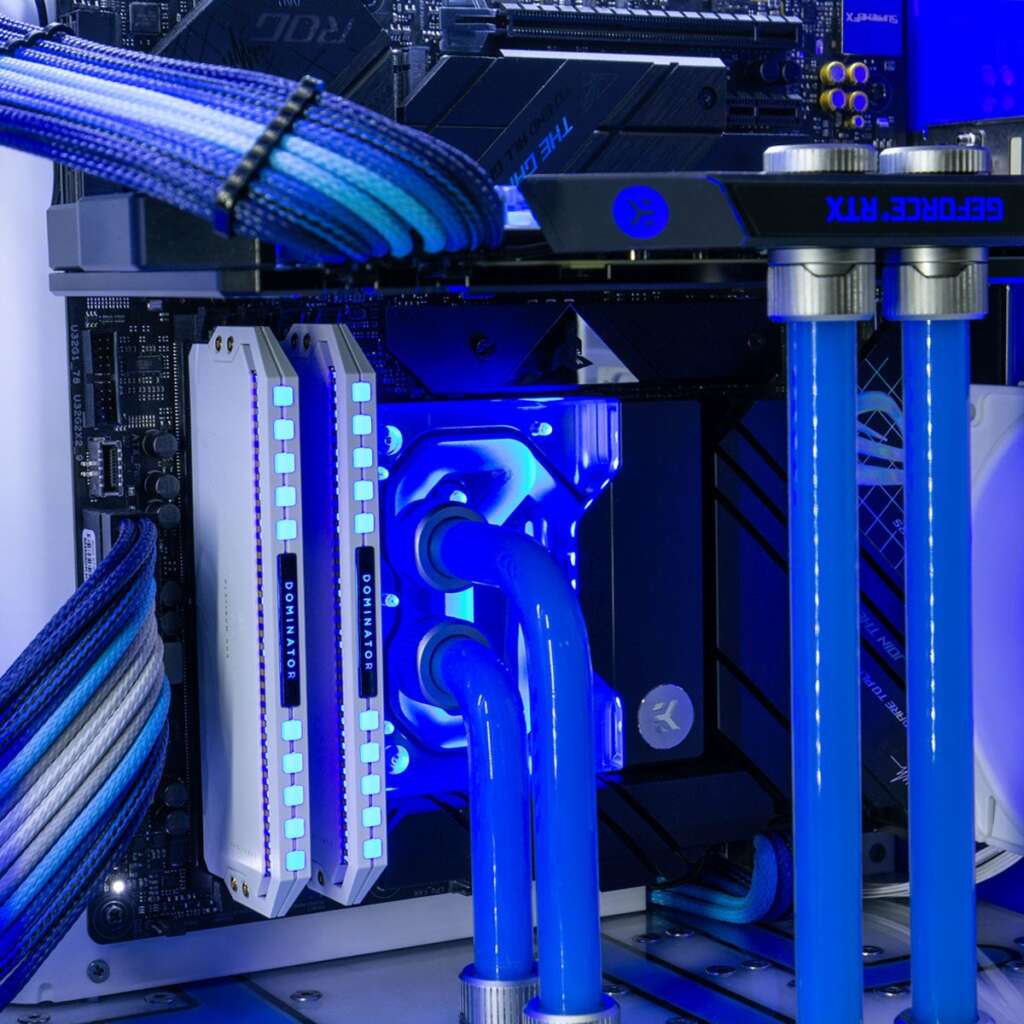 To keep you gaming and creating for longer, the 8Pack Comet MK2 is packed with a custom water-cooling system, featuring EK Water Blocks and Corsair Hydro X Series hardware. This loop has been designed to keep all the precious components cool and performing at their best.
Take advantage of the two 480mm radiators, D5 pumps, and dual custom loops. Running through the hard tubing is a blue coolant that matches the RGB lighting and included Pexon cables.
The backdrop to this comprehensive cooling system is a custom 8Pack distro plate constructed from acetal plastic.
What's more, the custom-made M-ATX case features hexagonal cut-outs along the side and front panels. These cut-outs not only add a dramatic flair to your case but help ensure incredible airflow and ventilation.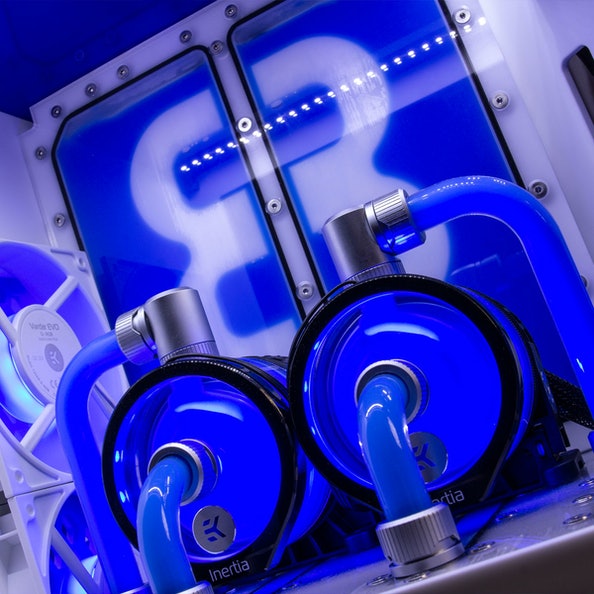 8Pack Approved:
Every 8Pack Gaming PC has been carefully engineered to ensure breath-taking performance and elite-tier gaming. Built utilising the latest gaming hardware, all of which have been cherry-picked by 8Pack himself, along with expert overclocking. Enjoy 4K gaming, digital rendering, and much more with ease! Plus, the 8Pack Comet MK2 is ready for when the infamous NVIDIA 40 series of GPUs launches. All you'll need to do is plug in and play to enjoy the latest generation of graphics cards.
What's more, in partnership with Overclockers UK, every PC will undergo quality testing and assurance by the in-house team of PC builders and experts.
The Comet Official PC System Specifications: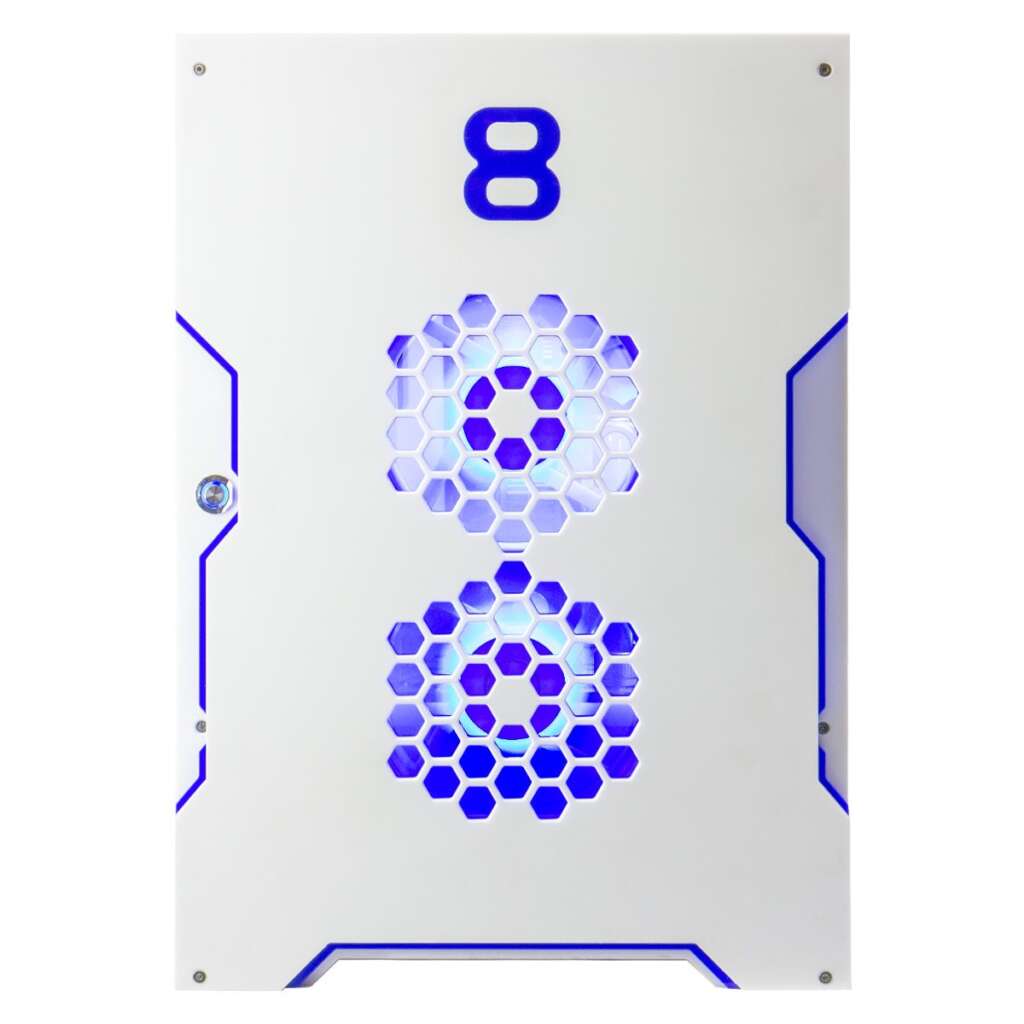 Custom Mirco-ATX Case
Intel Core i9 12900KS CPU
ASUS ROG Strix Z690-G Motherboard
32GB DDR5 5600MHz RAM
NVIDIA GeForce RTX 3090 GPU
2 x 1TB WD Black SN850 NVMe M.2 SSD
1 x Samsung 2TB 870 EVO SSD
ASUS ROG THOR 1200W 80 Plus Platinum Rated PSU
Custom Loop Water Cooling featuring EK Water Blocks and Corsair Hydro X Series
Pexon braided cables
Customise and Configure:
Tailor the 8Pack Comet MK2 gaming PC to suit your individual preferences and unique aesthetic. Utilise OcUK's brand-new UV printer and choose a custom design that can be printed on the case or the side panels. These designs, however, must be original and can't be plagiarised.
In addition to any custom printing, you can also make adjustments to the Pexon braided cables, liquid coolant, and much more! To make any changes to the 8Pack Comet MK2, all you need to do is get in touch with the helpful team at OcUK who will be happy to assist you with any additional touches you wish to add.
It's important to note, however, that any customisations may result in additional costs and will affect the production time. The minimum lead time for an 8Pack system is 36 days.
Order the Comet Today!
Get your hands on this exceptional gaming PC by clicking the button below!
Whilst you eagerly wait for your new Comet MK2 to arrive, why not watch this video down below where Ian sat down with Overclockers UK and told us all about his brand-new gaming PC.