8Pack is back at it again with another bespoke gaming PC that defies boundaries and delivers outstanding gaming performance.
Introducing the 8Pack Cryocube, a cool, all-white PC that utilises the very latest in technology and expert overclocking, to unlock jaw-dropping gaming and blisteringly fast speeds in multitasking, streaming, and content creation.
Powerful Gaming
An intelligent redesign of the infamous Hypercube, 8Pack has expertly engineered the Cryocube to take advantage of the latest gaming hardware to deliver exceptional performance.
Featuring a 12th generation Intel Alder Lake CPU and a Titan class NVIDIA GeForce RTX 3090 GPU, both overclocked by the legend himself, give your favourite AAA titles the magical 8Pack touch. Every component has been carefully cherry-picked to unlock hyper-realistic graphics, superior frame rates, low latency, and intelligent workload management.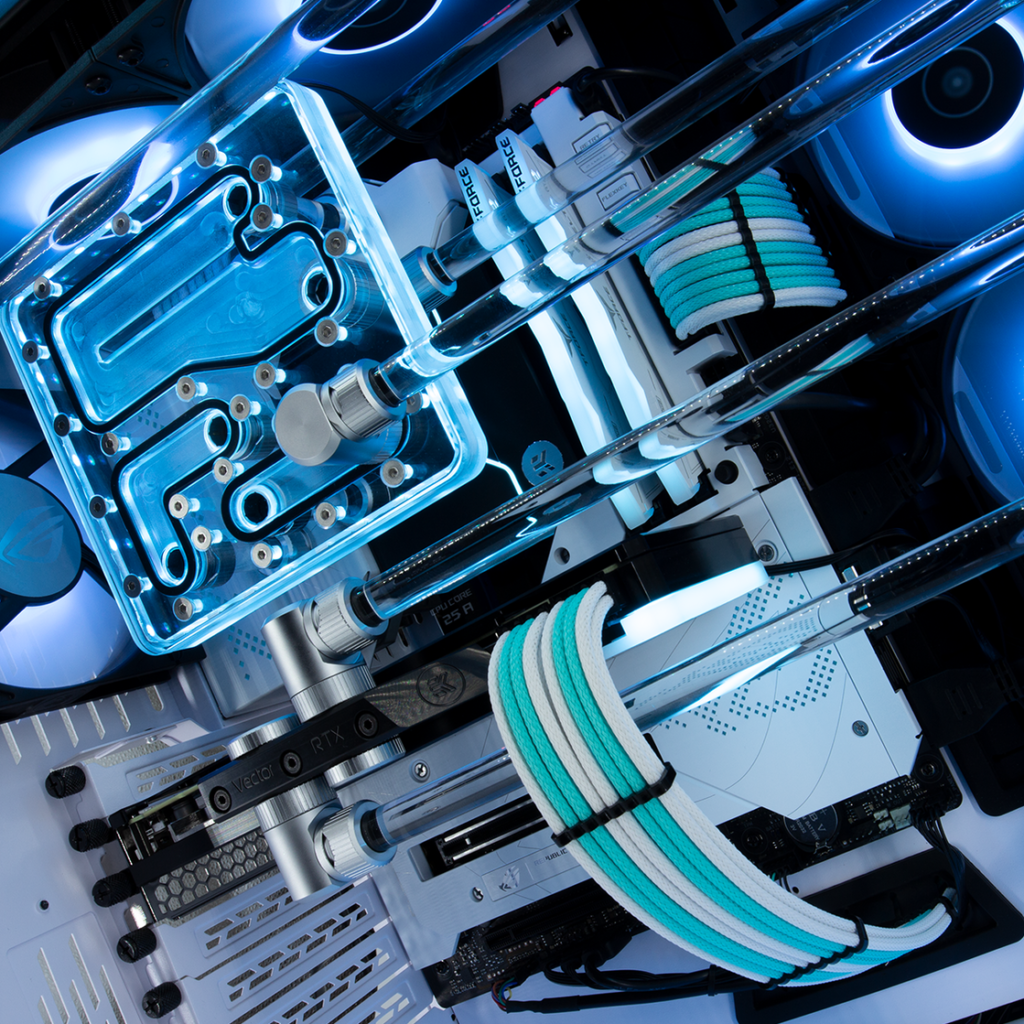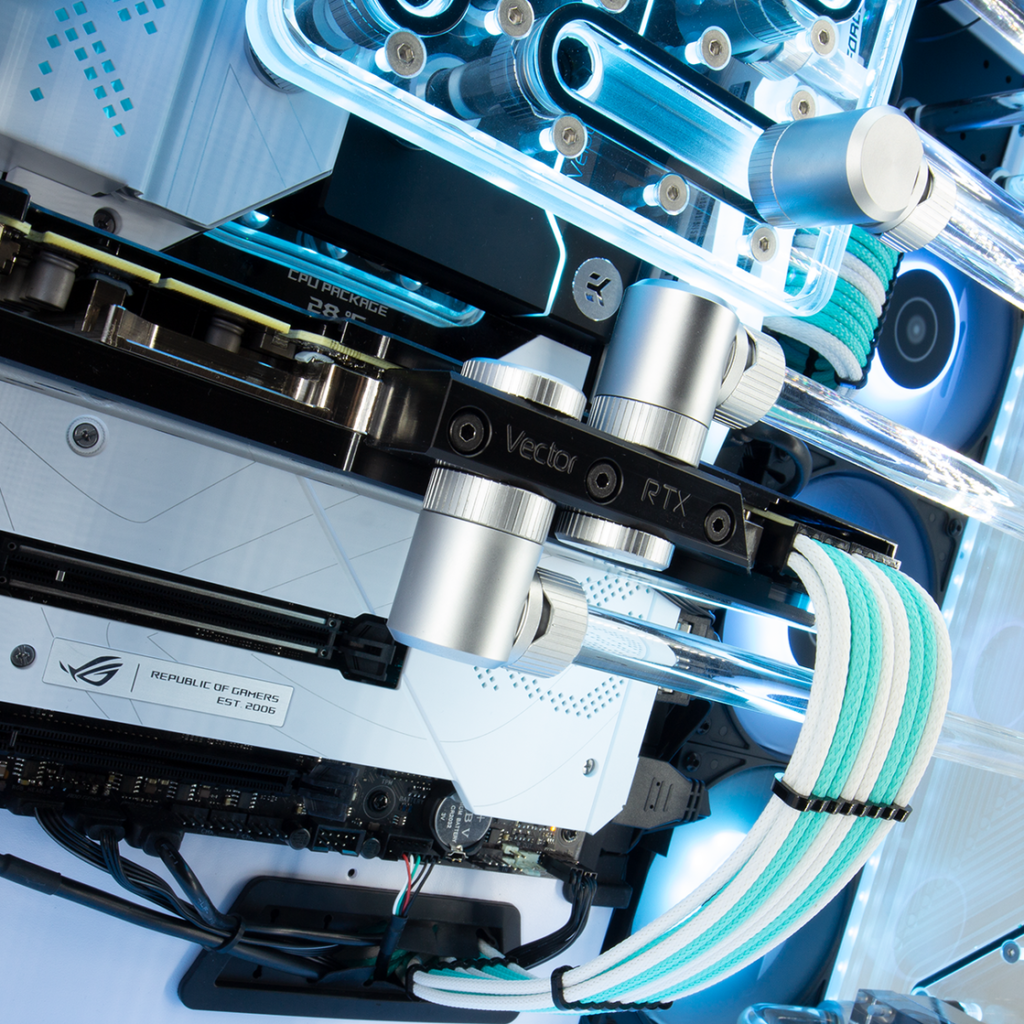 In addition to all of this, this gaming PC is packed with 2 x 2TB WD Black SN850 SDDs that have read and write speeds of 5,000MB/s and 4,400MB/s. As a result, you can sit back and wave goodbye to frustratingly slow loading screens and boot times. What's more, with flexible storage options and upgrades available, you can tailor the Cryocube to never run out of storage space!
All of which is installed within a crisp white Lian Li O11D Mid-Tower that features custom 8Pack branding along with a lightbox and RGB accessories. As a default, the RGB lighting is set to a stunning blend of whites and blues to suit its namesake. Even 8Pack's favourite Pexon braided cables have been specifically selected to match the mesmerising sub-zero aesthetic.
Cryogenic Cooling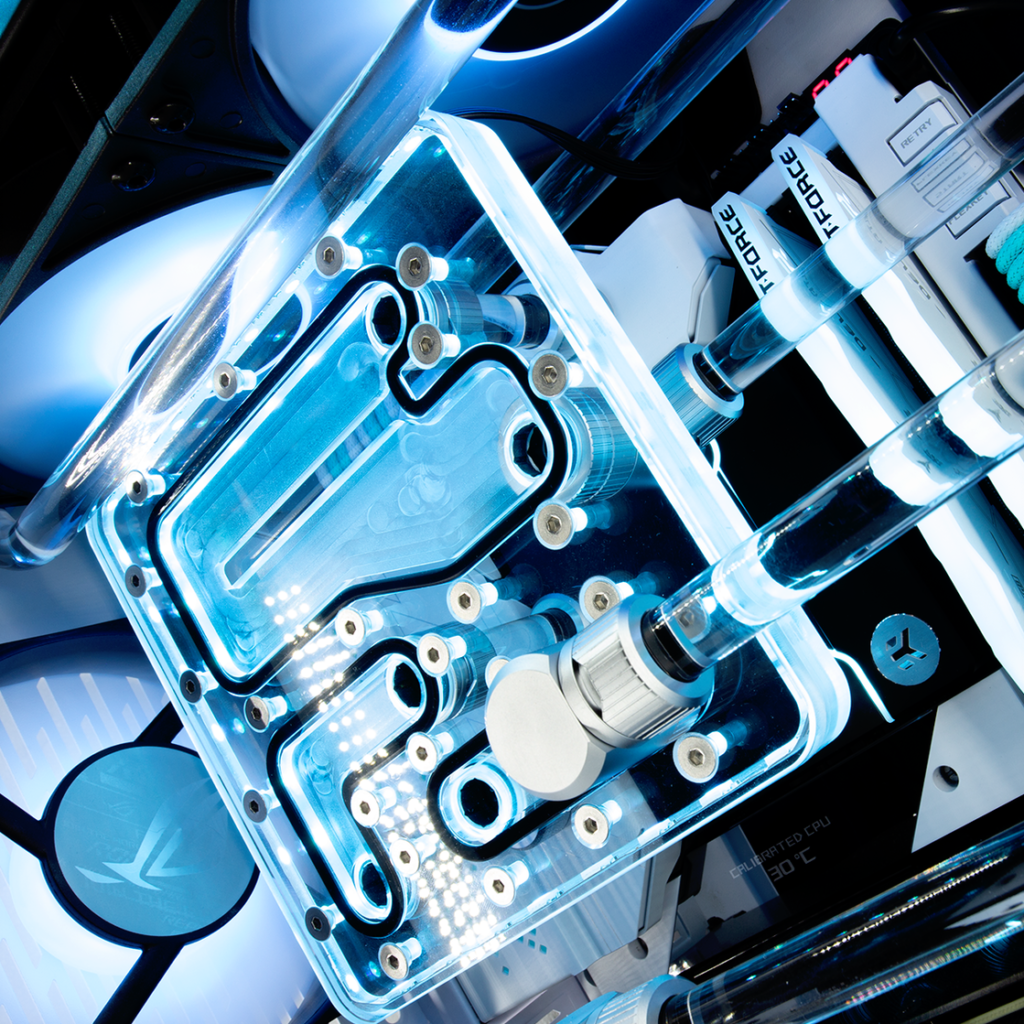 To keep the Cryocube performing at peak temperatures, this PC includes a comprehensive, fully custom water-cooling system. Featuring EK Water Blocks hard tubing and CryoFuel, and a branded distro-plate on the front of the case. Alongside this, is a second distro-plate elevated in front of the motherboard and a dedicated water block for the GPU. What's more, to effectively manage and draw away any excess heat, two 360mm radiators have been mounted to the top panel and alongside the motherboard.
In order to ensure the Cryocube always stays cool and quiet, the system has been expertly designed in a CAD program to deliver exceptional natural airflow and cooling. As a result, the radiator fans will only ever need to be configured to low speeds, which is easily controlled via the included Aqua Computer 6 LT Fan Controller.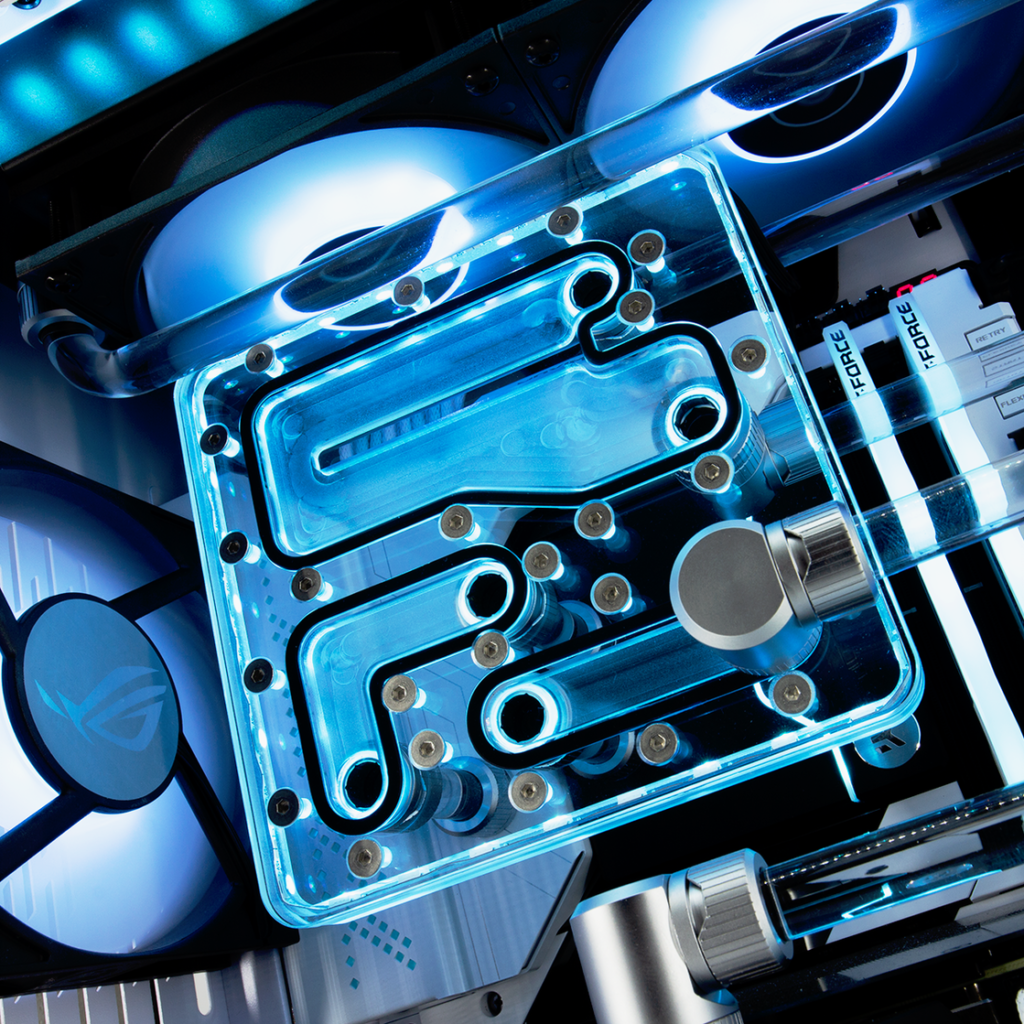 8Pack Approved
Every bespoke 8Pack Gaming PC has been carefully designed by the man himself to ensure extraordinary levels of performance and high-quality gaming. Utilising a combination of cherry-picked components and expert overclocking, 4K gaming, digital rendering, and content creation are all at your fingertips!
Plus, thanks to his partnership with Overclockers UK, every PC undergoes rigorous quality testing and assurance by the in-house team of PC experts and builders. This ensures powerful performance and stability, even under heavy-duty applications.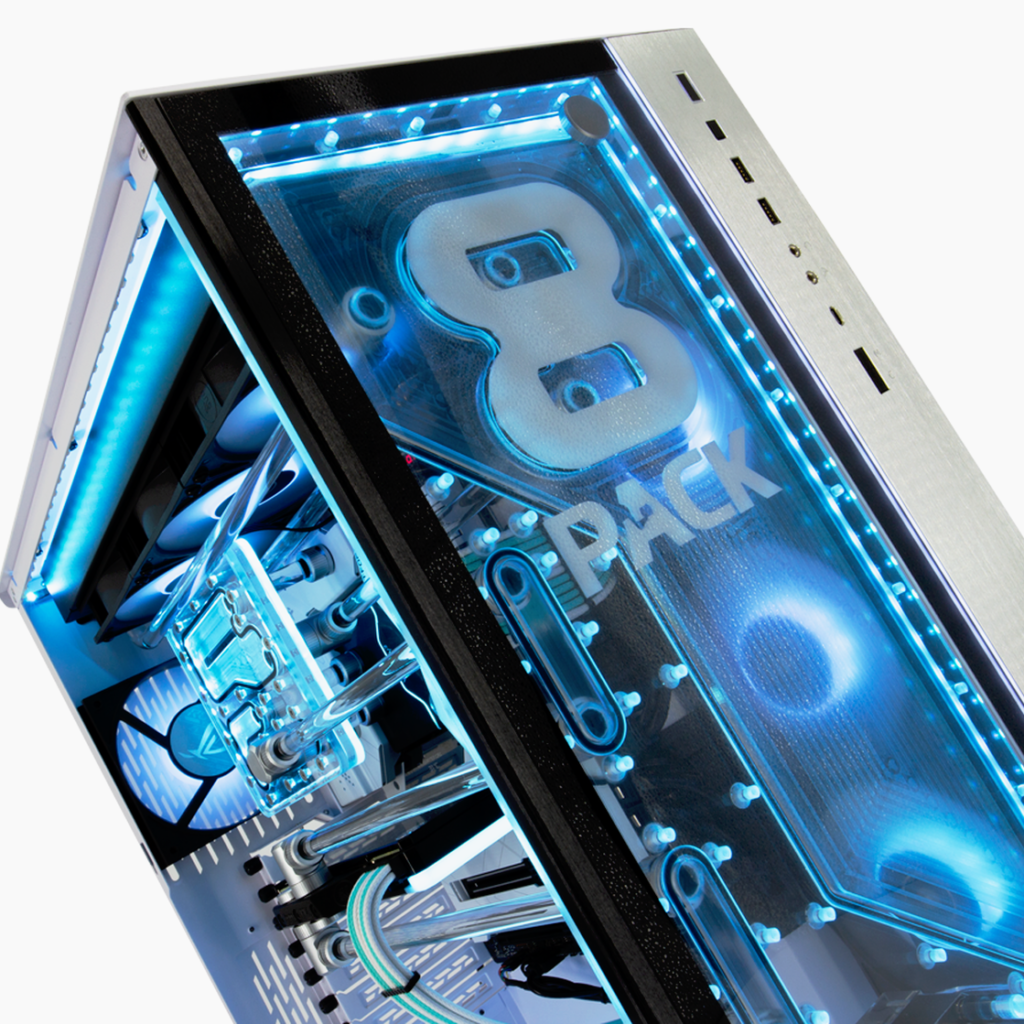 The Cryocube PC System Specifications: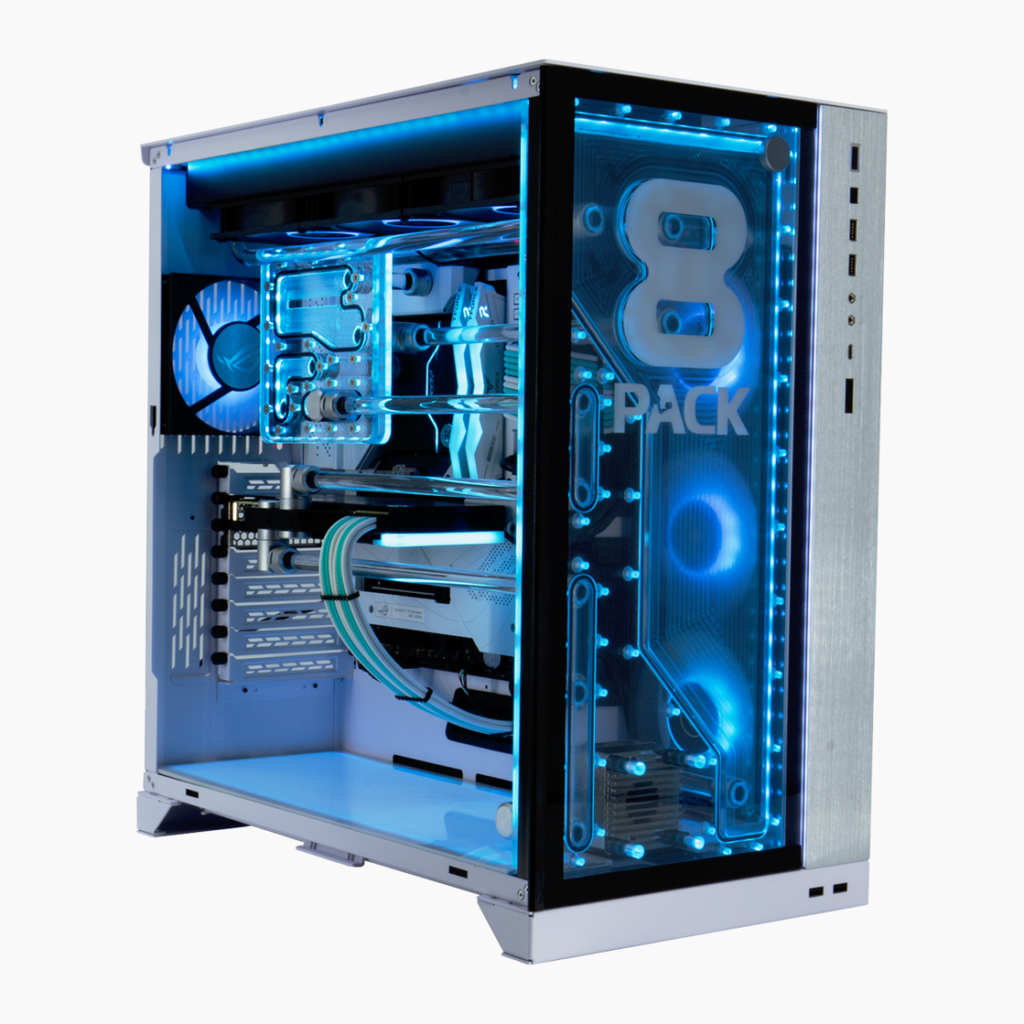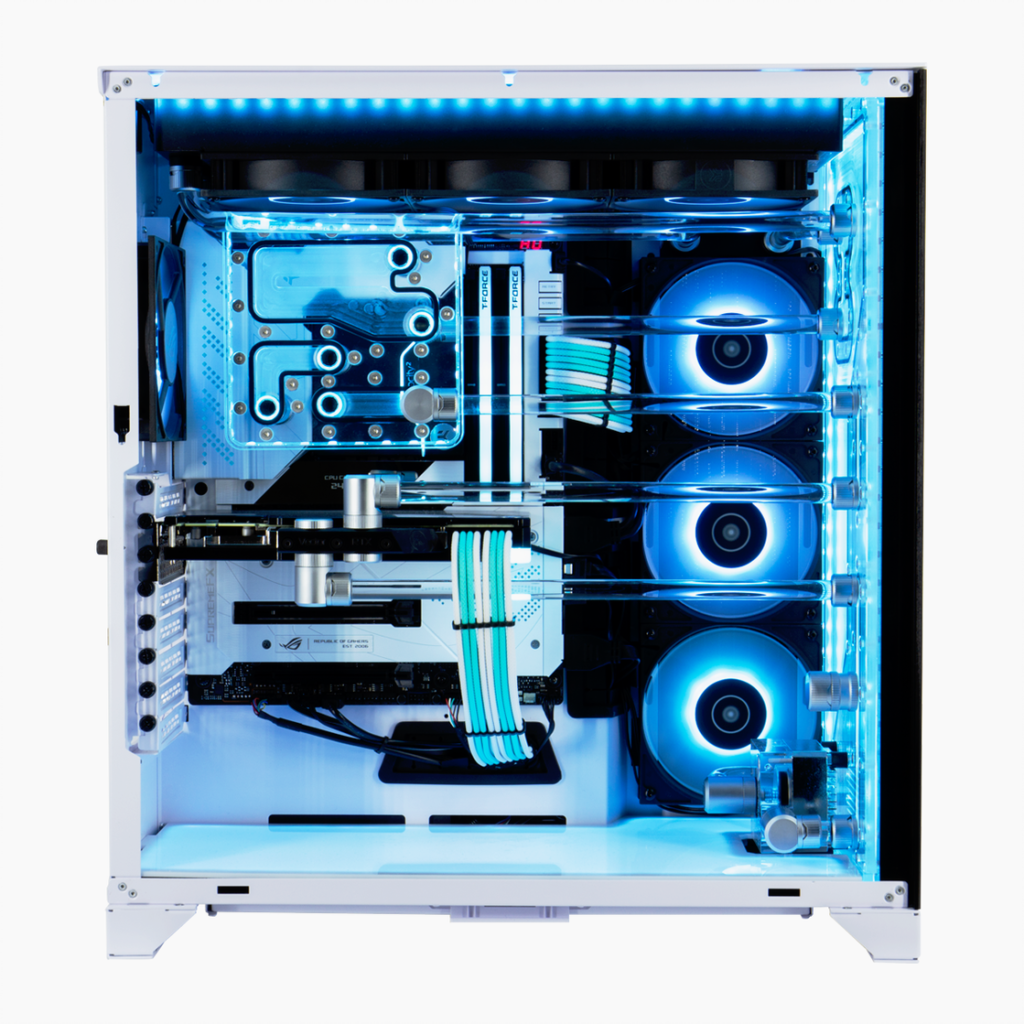 ASUS ROG Z690 Maximus Formula ATX Motherboard
Intel Core i9 12900K CPU (overclocked)
NVIDIA GeForce RTX 3090 24GB GDDR6 GPU (overclocked)
TeamGroup Delta RGB 32GB DDR5 Dual Channel RAM Kit (overclocked)
2 x 2TB SSD
Additional storage options are available
Custom EK Water Blocks Cooling
Includes branded distro-plates and hard-tubing
ASUS ROG Thor 1200W 80P Plus Platinum PSU
Lian Li O11D White Mid-Tower
Windows 11
Pexon cables
8Pack branded distro-plates
White and blue RGB
Includes a RGB lightbox Controlled via ASUS Aura Sofware
Customise and Configure
With numerous customisation options available, you can tailor the 8Pack Cryocube Gaming PC to suit your individual needs.
Along with flexible storage and RAM upgrades, you can make cosmetic alterations to the cables, cooling, and colour scheme for the 8Pack Cryocube. Just get in touch with the helpful team at Overclockers UK who will be happy to assist you with any unique touches you wish to add.
It's important to note however, any configurations may result in additional costs and will affect the production time. The minimum lead time for an 8Pack system is 36 days.
Order the Cryocube Now!
If you've gotten inspired to get your hands on your very own Cryocube, click the button down below to order yours today!