After the recent launch of Intel's brand-new line of CPUs, the legendary overclocking expert 8Pack has decided to test the latest i9-12900KS, to see if it really is the world's fastest desktop processor.
If you want to watch his exclusive video with Overclockers UK, check it out down below.  
Intel Core i9-12900KS:
Regarded as Intel's flagship CPU, the Intel i9-12900KS features cutting-edge 12th Gen P&E cores, along with intelligent integrated Intel technology. Compatible with any Z690 motherboard that has the latest BIOS update, this CPU is the perfect choice for those looking to enjoy high-end gaming and content creation at exceptional levels of performance.
The table below details the differences between the previous highest standard of 12th Gen CPU, the i9-12900K, and the i9-12900KS.  
Core/Threads 
P-Core Base – Boost 
E-Core Base – Boost 
TDP  
Core i9 12900K
16 Cores / 24 Threads 
3.2GHz Base 
5.2GHz Boost 
2.4GHz Base  
3.9GHZ Boost 
125W 
Core i9 12900KS
16 Cores / 24 Threads 
3.4GHz Base 
5.5GHz Boost 
2.5GHz Base 
4.0GHz Boost 
150W 
Both processors use the same number of cores and threads, but the i9-12900KS takes advantage of the intelligent P&E core structure to enable speeds of up to a whopping 5.5GHz! Plus, when paired with the intelligence of Intel's Turbo and Velocity Boost technology, the i9-12900KS supersedes all expectations.  
Overclocked by the Expert:
Utilising Cinebench, Blender, and standard gaming benchmarks such as 4k and 1080/1440p, 8Pack tested the i9-12900KS with 5.2GHz on the P cores and 4.1GHz on the E cores.
We think the results speak for themselves…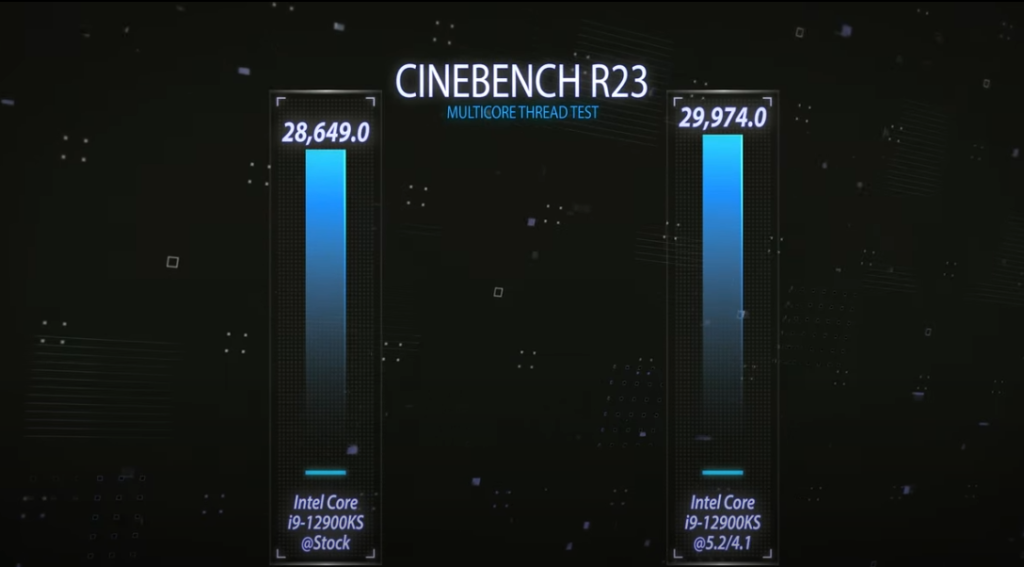 When overclocked, the i9-12900KS allows for a 3-4% improvement in gaming, including the latest demanding AAA titles. Along with a 10% improvement in multithreaded tasks, such as content creation or image rendering.
However, this incredible boost in performance does come with a hefty increase in temperature.  
Cooling and Thermals:
Whilst undergoing his rigorous testing, 8Pack concluded that Intel's integrated Turbo and Velocity Boost were not keeping the core clock speeds at a constant 5.2GHz. That's even when using two 240mm AiO radiators. To achieve such a high level of stable performance, the i9 12900KS needs to be paired with a hefty cooler, to keep it at optimum temperatures.
Therefore, cooling makes a significant difference in performance with i9 12900KS. Even if you are running at the stock performance or extreme overclocking. 8Pack personally recommends you use a 360mm AiO radiator, or consider a custom water-cooling loop.
Thankfully, however, 8Pack has created specific bundles, designed to take advantage of all the benefits of the i9-12900KS and Z960 chipsets. The elite tier 8Pack bundles even come with a 360mm radiator as standard.  
Get Your Hands on Exclusive 8Pack Bundles:
Created by the legend himself, all these bundles come with everything you need to upgrade your system and achieve peak performance. All of the settings for extreme overclocking have been intelligently pre-built into the BIOS settings, so all you need to do is plug in and you are ready to play! 
8Pack Extreme Gaming Bundle: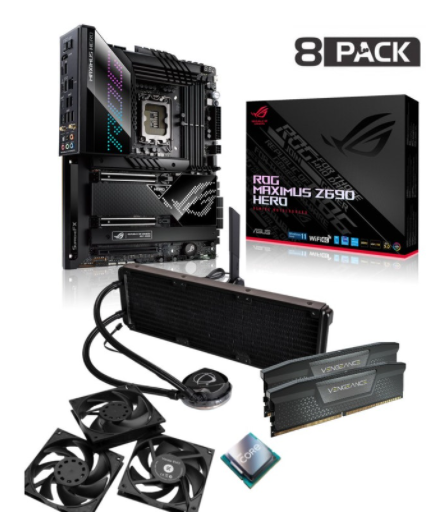 The ultimate upgrade  
Includes:  
ASUS ROG Hero Z690 motherboard  
Intel Core i9 12900KS CPU (overclocked) 
32GB DDR5 5600MHz RAM  
A choice of liquid coolers with either EK Varder EVO fans or EK waterblocks  
8Pack Approved Gaming Bundle: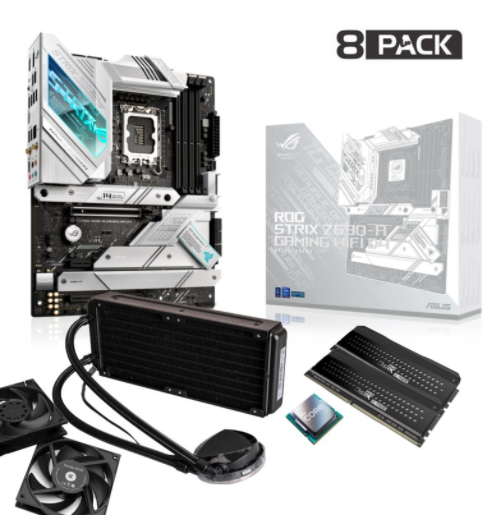 Hand-picked by 8Pack  
Includes: 
ASUS ROG Strix Z690-A Gaming Z690 motherboard  
Intel Core i9 12900KS CPU (overclocked) 
32GB of 3600MHz DDR4 RAM  
A choice of liquid coolers paired with EK Varder EVO fans  
In the meantime, look out for the Intel i9 12900KS being included in future 8Pack systems!